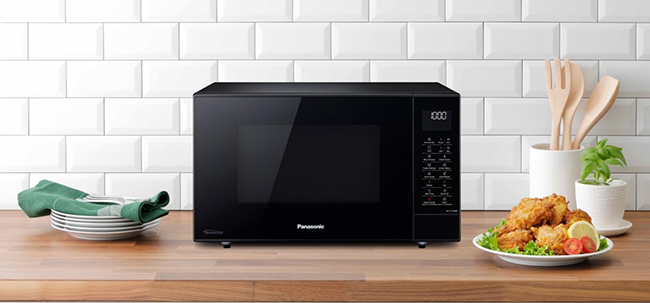 One appliance to Bake, Grill or Microwave family dishes with reduced cooking time
Panasonic has launched its latest convection microwave oven that unlocks a world of versatility in the kitchen with three cooking functions – Bake, Grill and Microwave – in one appliance, and a host of efficient cooking modes. Save time and whip up tasty meals with Combination cooking, 29 Auto Menu programs, and Turbo Defrost. Cooking for the whole family has never been easier, with Junior Auto Cook Programs ensuring that even the fussiest of eaters can find a meal they enjoy.
The 27L Convection Microwave Oven (NN-CT56M) is a valuable addition to any modern kitchen with a generous capacity, space-saving design and sophisticated black finish.
Chasnyn Ousmand, Product Marketing Manager, Microwave Ovens, Panasonic Australia, said: "Convection Microwave Ovens are paving the way for the future of cooking, with energy efficiency, foolproof multifunction cooking and space saving benefits. A recent Australian survey we undertook saw 57 per cent of users say that their Convection Microwave has changed the way they cook, while 48 per cent hardly use their traditional oven after purchasing a Convection Microwave[1]."

"Our longstanding history of top performing microwaves is a result of rigorous research to understand the needs of our consumers. The NN-CT56M Convection Microwave Oven delivers on this, with impressive cooking convenience in a compact design we know users will love."
Panasonic is renowned for its Microwave range, with a history of more than 50 years' innovation, and is recognized as Australia's No.1 brand. Furthermore, for the second year running, Panasonic Microwaves have received the Award for Most Satisfied Customers[2] in Canstar Blue's survey.
NN-CT56M FEATURES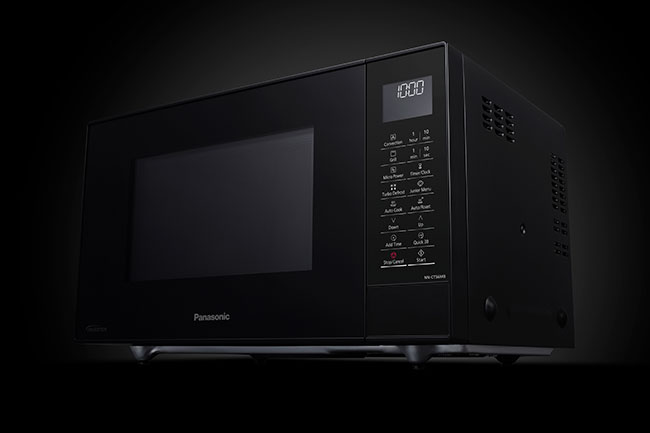 A variety of efficient cooking modes
Three cooking functions in one appliance provide the capability to Bake, Grill and Microwave. With 1000W of Microwave Inverter power, a 1300W Quartz grill and a built-in 100-220°C convection range, the NN-CT56M can cook a wide variety of delicious meals. The Convection Oven Mode delivers true oven cooking to bake and roast with ease and peace of mind. Combination Cooking leverages the efficiency of Inverter Microwave power with roasting/grilling from the Convection Oven Mode, allowing home cooks to save time without sacrificing meal taste, texture or appearance.
29 Auto Menu programs for time-saving convenience
The time-challenged have a series of preprogrammed menus at their fingertips, with 29 Auto Menu programs making meal preparation easy – with even a "Quick 30" option for those that are limited on time. Ten menus use a combination of Microwave and Grill/Convection cooking to create mouth-watering dishes, including an Auto Roast option. Another eight options are available for cooking or reheating family favourite meals with choices including roast chicken, casserole or fish and chips. Families can breathe easy with the Junior Auto Cook Programs, which offer eight recipes that every child will enjoy including puréed fruits and vegetables, pasta bake, vegetable fries and more.
Inverter Technology and Turbo Defrost delivering fresh food every time
Featuring Panasonic's Inverter technology, the NN-CT56M cooks food evenly by distributing microwave energy gently throughout the oven cavity, resulting in perfectly cooked and nutrient-filled foods. Last minute meals are now nothing to fear, with the Panasonic Inverter Turbo Defrost technology helping defrost food more evenly while also saving valuable time.
The NN-CT56M is available now from leading consumer electronics retailers, priced at $529 RRP